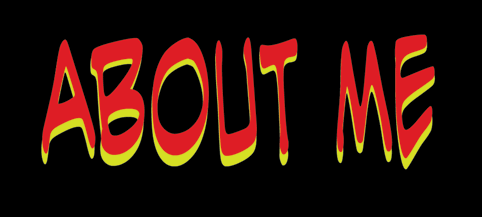 ---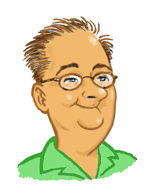 BRENT AMACKER was born in Mobile, Alabama and reared in Eight Mile. (No, not the one in  that lame movie ...!) Blessed (or Cursed, depending on who you ask) with a keen eye and sense of humor, he has been doodling, sketching, and drawing uncontrollably for decades. Raised in a family of five kids, much of his early childhood was spent in front of the television watching- you guessed it- CARTOONS!  This period was strikingly similiar to descriptions attributed to the great SAM WATTERSTON creation "Calvin" of 'Calvin & Hobbes':  "I like to think eating six bowls of Chocolate-Frosted Sugar Bombs and watching cartoons til noon makes me hyper-active and incoherent all day....!" 
 Taught how to read at a young age by his sisters, suddenly the brightly-colored comic books his older brother Kevin brought home took on a whole new aspect, and he was hooked. On EVERYTHING. DC. MARVEL. Disney. The Flintstones.  Little Golden Books. ANYthing he could get his hands on. He left a trail of drawings EVERYwhere. His mother STILL has a crayon drawing of Fred & Barney -created when he was barely 5 years old- that SLIGHTLY resembles Fred Flintstone and Barney Rubble! Though crudely rendered, you can tell who they are supposed to be. Here is the drawing: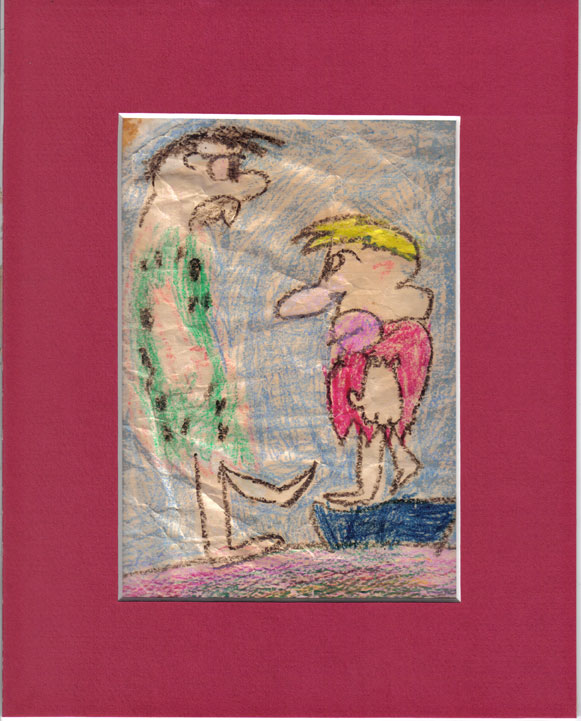 The nearly-40-yr-old crayon drawing is attached to the mat by tape. In order to preserve the masterpiece for future generations, the image was scanned 'as-is' to prevent any damage. Unfortunately, this omits key background architectural and scenery renderings which further display the early composition problems plaguing the artist to this day.
---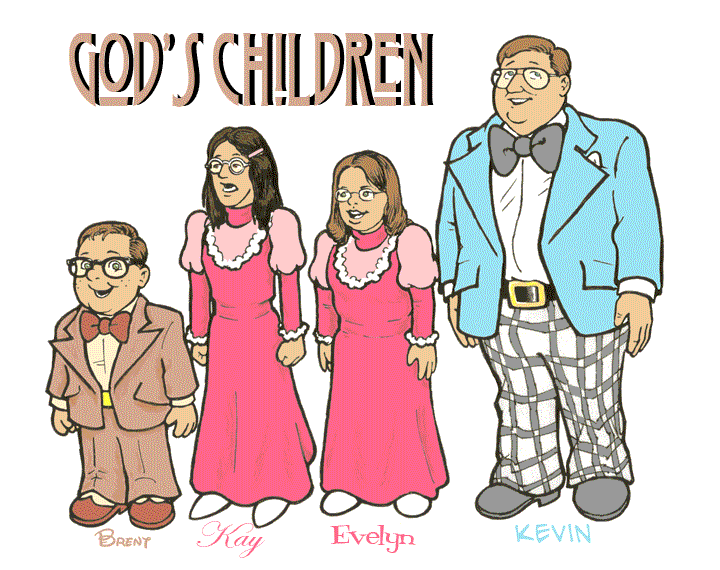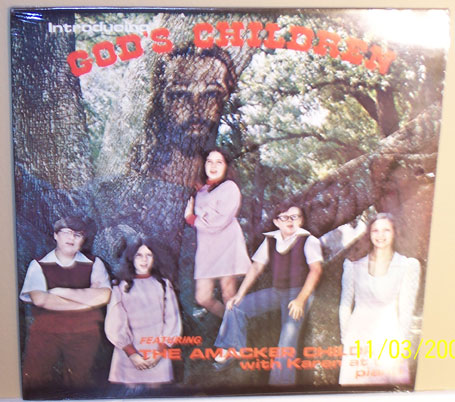 Caricature by Brent of the singing Amackers, aka "God's Children", and the famous Album Cover with groovy super-imposed 'Jesus'.
TRIVIA: BRENT also sang, toured, and recorded Christian and Gospel music with his siblings when he was younger, once even appearing at Mobile, Alabama's Greater Gulf State Fair alongside the Oak Ridge Boys before they made the jump from Southern Gospel to mainstream Country music!
(Eventually, I will be streaming vintage "God's Children" audio for your listening enjoyment!)
Below you will see the rest of the family, featuring 'the Folks' and Gwen:
(I knew this drawing might infuriate Gwen, so I am having my parents restrain her....!)
Below are images of The Amacker Family recording the above-pictured album in 1974: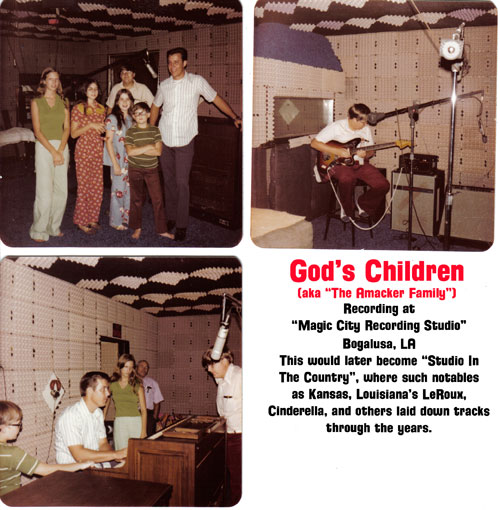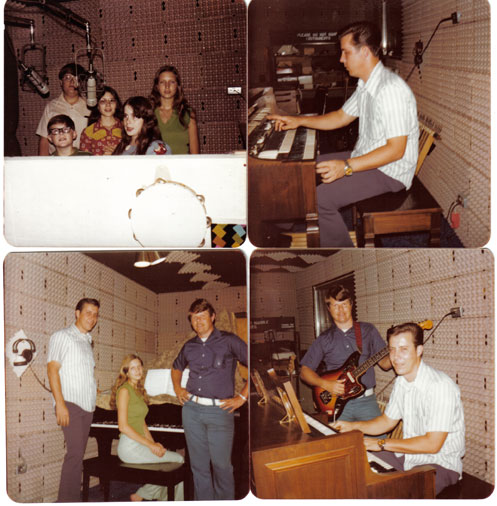 Gene Foster (in the white shirt) and Jimmy Rayburn (dark blue shirt, with bass) engineered and recorded the ground-breaking effort, now affectionately referred to as "God's Chipmunks" by Brent's friends. You will know why after listening to upcoming audio streams.
---
 Although he can paint, his short attention span usually dictates he work in pen or pencil, and computer graphics is a new toy with which he is currently playing and experimenting. His ability to capture personalities and situations seems to be involuntary, and examples are strewn about this site.
 Brent has provided t-shirt and advertising graphics and line-art for numerous clients (both corporate and private), and his draftsmanship and creativity are unsurpassed.  He is available for commission work, and prices for specific projects are available upon request.
 Brent has been married to his beautiful wife, Alice, since 1996. (They have been together since early '92...) His lovely stepdaughter Michelle is a graduate of THE University of Alabama with a degree in Interior Design. Much to the dismay of thousands, she has re-located to Washington, D.C. with Chris Hundley, who now serves as her concierge and chief-of-staff since their wedding back in April 2010. They recently added me a grandson, Preston Daniel Hundley, pictured below: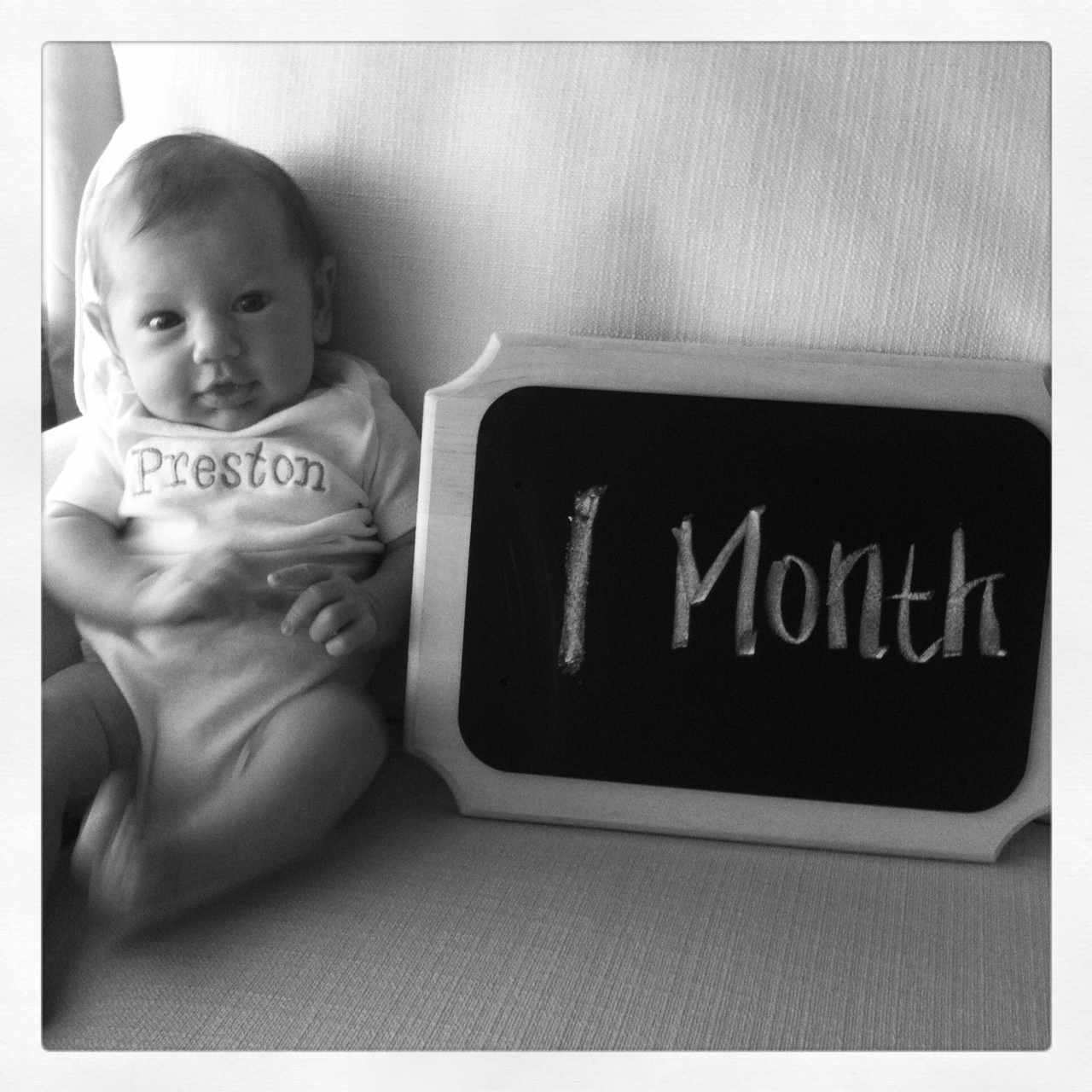 Stepson D.J. is, strangely, NOT a disc jockey. I would have thought it a given.

Here is a shot of 'the folks' in 2009 with some yard art Christmas decor I had rendered & built a dew years back: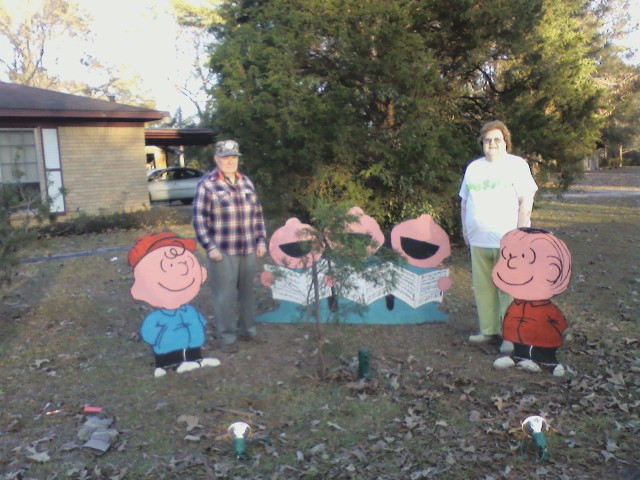 Incidentally, BRENT is forever immortalized on the back of the "FAMILY GUY LIVE in VEGAS" CD Cover. That's him in the photo below, dead center below Peter's armpit....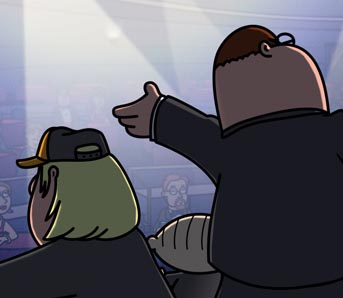 Thanks to the designer, DAN POVENMIRE.  (Image (c) and TM 20th Century Fox Television)
ALL IMAGES (c)2014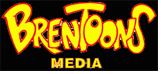 BRENT AMACKER
---

 ACTUALLY planted on this globe by space aliens, Brent doesn't understand anything you say. Not a word. Except maybe 'beer'. The knowing looks, serious glances, and nods are a ploy to gain your trust. The drawings are rendered in disappearing ink, and this page will momentarily self-destruct. Probably. TRY not to think about it.